Copyright (c) 2013
Jarmo T. Alander
Printed: Friday the 23rd August 2019 (Week 34)
ImageICGA for ClinICGA: Brain vein imaging
"Motivation comes deep from brain"
HeSa 16.9.2008
How to help neurosurgeons by doing project works on automation?
Obs! Images shown here are links to more information (or source of the corresponding image).
Above image: (c) HUS
Background: Neurosurgery
Operation of brain veins is highly demanding neurosurgery.
Intraoperational blood circulation monitoring is essential for good results.
Problems in blood circulation can cause serious neurological damage or even dead.
Image: (c) 2008 K. Koivuporras
Indocyanine green contrast agent
Intraoperational blood circulation monitoring is possible with a chemical called indocyanine green (ICG), which fluorescents in near-infrared (800nm).
It was long used in imaging of blood veins in eye (ophthalmological angiography).
It is extremely harmless chemical that can be injected to blood circulation (max 5mg/kg/day).
Image: Wikimedia.
Fluorescent imaging
Illumination of object with NIR light (<800nm, lamp, laser, or NIR-LED)
Filter out (Fs) wavelengths longer than the fluorescent wavelength from the illumination (if necessary)
Filter out (Fc) illumination wavelenght from the image (before camera)
Camera must be sensitive to NIR (without NIR-cutoff filter)
Image: (c) 2008 J. T. Alander
Benefits of fluorescent imaging:
only, in principle, the parts containing ICG are seen in the image
NIR-light penetrates deeper in tissue than visual light
Drawbacks:
ICG is transitional in blood circulation (half lifetime only a couple of minutes)
possible allegic reaction (contain small amount of iodine)
a camera is needed for imaging (not bare eye)
new in imaging blood circulation dynamics (excellent research topic!)
Image: (c) 2008 K. Koivuporras
NIR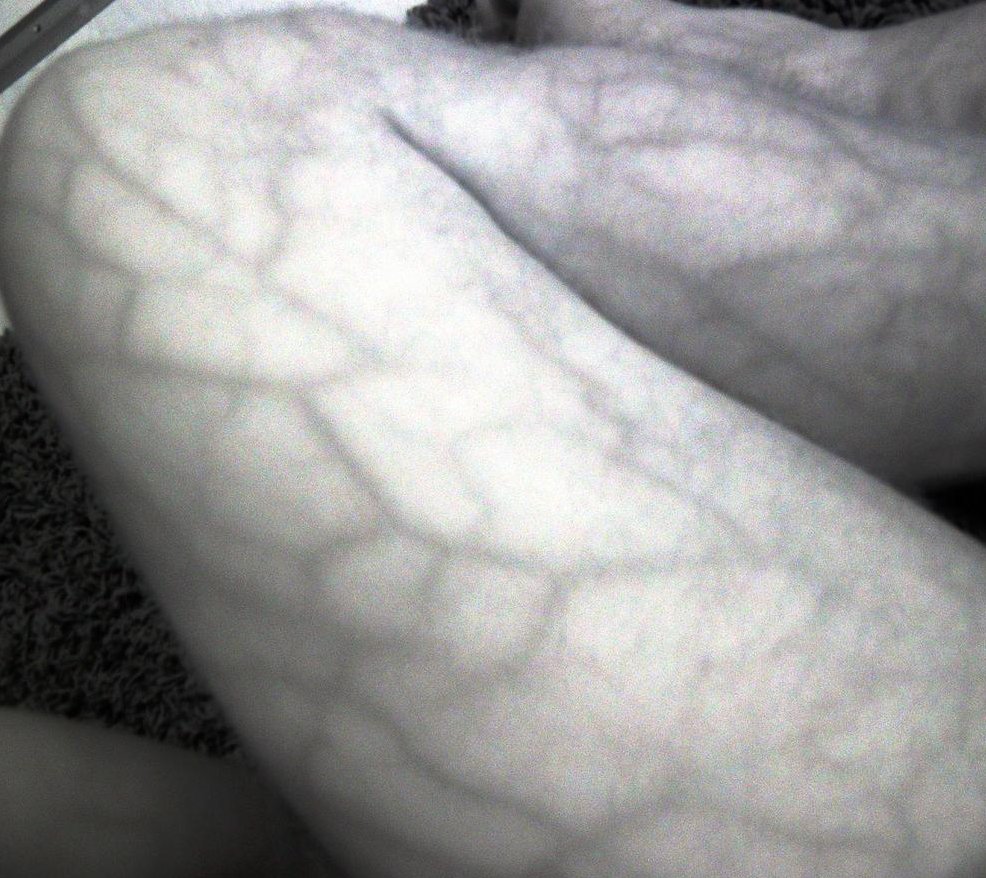 Near-Infra Red (NIR), (IR-A) is light that is not visible to human eye.
It behaves optically very similarly to visible light (optical lenses etc function well).
Silicon sensors are usually sensitive to NIR like most digital cameras.
Image: (c) 2007-2008 P. Välisuo with a modified digital pocket camera.
ICG-angiography
Angiography = imaging of blood veins
Brain vein surgery is usually done with an operation microscope (binocular).
The latest operation microscopes have integrated fluorescent imaging system that can be used to blood circulation monitoring intraoperationally.
The microscope image (video) can be recorded for later analysis and documentation.
Wikipedia: Angiography
Image: (c) C. Zeiss
History
The method to use ICG in neurosurgical angiography was presented by A. Raabe et al:
A. Raabe, P. Nakaji, J. Beck. L. J. Kim, F. P. K. Hsu, J. D. Kamerman, V. Seifert and R. F. Spetzler, Prospective evaluation of surgical microscope-integrated intraoperative near-infrared indocyanine green videoangiography during aneurysm surgery, Journal of Neurosurgery, Vol. 103, pp. 982-989, 2005. med:ARaabe05a
NIR video-angiography with surgical microscope (Zeiss).
SUMMER PROJECT WORK
Problem:
movements and deformations disturb analysis of ICGA videos.
Solution:
consecutive frames must be registered so that the corresponding parts are aligned properly.
The tasks are tailored to meet the summer traineer's skill profile.
Step by step
Here roughly what is expected:
learning basics of ICGA
learning basics of image registration
learning ITK medical image processing system
registration of ICGA videoframes
if possible: registration of CT and ICGA
behind the horizon: image registration online using FPGA
making continuous reporting
Image: (c) 2007 J. Alander: chimney at Palosaari campus area
Skills needed
Programming (e.g. Matlab) and especially
basics of signal/image processing
innovativeness
help much in proceeding with this Summer task.
ITK
ITK is an open source software package for medical image processing that can be programmed/used with e.g.
Images: (c) www.itk.org
Keywords
image processing
filters
segmentation
image registration
user interfaces
FPGA (real-time operation)
Cooperation
This project is a cooperation of several parties
engineers: constructing machines and programs
compnies: that produce machines and programs
medical doctors: hopefully using what the above supply
great audience: patients
nationally (in Finland several universities)
internationally (several universities)
University of Vaasa
Helsinki University
Helsinki University of Technology
...
More information
Supervisor /engineering: Prof. Jarmo Alander (TKK: docent) usually on Mondays at TKK
Neurosurgery: HUS: prof. J. Hernesniemi's group
AUTOaivo (references to ICG papers; mainly neurology)
AUTOsilma (references to ICG papers; mainly ophthalmology)
LOPPU / SLUT / The END