---
11. Interaction styles
---
Interaction ?=? Dialogue
Dialogue = Computer and Human in turns
Interaction = Exchange of acts between Computer and Human
Interaction Style = Ways of communication
---
Interaction Styles
Command entry
Menus and navigation
Form-fills and spreadsheets
Natural language dialogue
Direct manipulation
---
Command Entry
User types the commands to computer
Prompt - message from the computer (ready to accept input)
Quick method for expert user
Problem in understanding the state of the system
Abbreviations (in UNIX (or dos extensions) use the tab key for command completion) (How should the command system be designed for this purpose)
Commands should be mnemonics
---
Menus and navigation
---
Set of options on screen for choosing the action. Use for selecting actions or among options for data entry.
Pull-down menus
Pop-up menus
Hierarchical menus
---
Design issues
Use standard menus for standard actions (Help, open, close, save, save as .. , print, Undo, Copy, Cut, Paste, Clear)
Organize menu items in logical order (alphabetic , size, grouping)
Changing (adaptive menus) can be difficult (the content of the invisible menu list can change according to actions) - for example files that you have used recently (e.g. word).
Menu items can be activated or inactivated according to possible options in the current situation.
Example of a menu designer - Microsoft Word allows you to customize the manu structure and functions as you like. The structure can be stored to a file, so you can have different menus for different documents (select customize from the Tools-menu).
---
Form-Fill
---
Form on screen with a set of fields - check-boxes - buttons - menus, for data entry of action selections.
---
Typically select a set of actions or enter a set of selections and press GO (or SUBMIT or ENTER ...)
---
Two basic approaches
Form is filled and then the data is sent to the application for actions
Every field entry is sent to the application - checking possible before every item is entered
Design issues
Layout
Sizes of fields
Types of fields
Help text (for the form - for each field)
automatic advancement (from field to field)
Cancel (what does it mean in the situation)
Corrections (one field - all fields)
Corresponding paper-form (for example order entry)
Pre-filled fields - initial values
---
Direct manipulation
---
Visibility of objects of interest
Rapid, reversible, incremental actions
Replacement of complex command language syntax by direct manipulation of the object of interest
---
Basic principle
Objects on the screen represent real-world objects
Actions on computer resemble real-world actions
Immediate feedback on actions
---
The system can have real world functions (power station, control systems) or only internal functions (drawing, calculating)
---
Reasons for success
Novices learn quickly
Experienced users can work quickly - making new functions (scripting)
Users can see the results of actions and change the direction of operations
Less anxiety - comprehensible system - actions reversible
Users feel in control of the system
---
Some problems
Cut and paste - clipboard (invisible)
Save (automatic - user activated)
---
Question - Think of a standard word processing system. How are the needs of different user groups taken into account?
---
Cognitive issues of direct manipulation
Gulf of evaluation - Gulf of execution
These concepts were introduced by Hutchins et al. .
---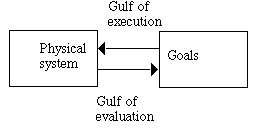 ---
Gulf of evaluation

the distance between the system's behaviour and the users goals

Gulf of execution

the distance between the users goals and the means of achieving them through the system
---
Problems in evaluation
Do the items on screen represent familiar objects
Does the screen give a good view of the state of the system
Do the items suggest what can be done with them (affordance)
Correspondence with real world situations
---
Problems in execution
What can be done
What will happen if I do something
Will the actions get me closer to the goals
---
Bridging the gulf
Designers should design more understandable systems ? (but - understandable for whom)
Users should learn more about the system ? (too many systems - too little transfer effect)
---
Semantic directness
relation between what the user wants to express and the meaning of the expressions available at the interface (e.g. does the system allow you to write - sketch and draw on same document or do you need different tools)
---
Articulatory directness
Relation between the meanings of expressions and their physical form (more than syntax) (switches operate logically, open - close)
---
Affordance, constraints, mappings and feedback
---
Some design oriented issues
---
Affordance
The tools should suggest what to do with them
---
Question - What does the scroll bar suggest?
---

---
Especially what do different parts of the bar suggest?
---
Constraints
---
Physical
Semantic
Cultural
Logical
---
Physical constraints

Restricting what the user can do (e.g. directions, dimming inactivated choices)

Semantic

Connect the behaviour with known patterns (wastepaperbasket)

Cultural

Question mark, thermometer scale, watch

Logical

Preserve the order of things
---
Mappings
Arrange controls according to the objects they control
---
Problem: How should the cooker control knobs be mapped on cooker rings? (Norman, 1988)
---
---
Feedback
---
What kind of feedback does the cooker give you if you have selected the wrong ring?
---